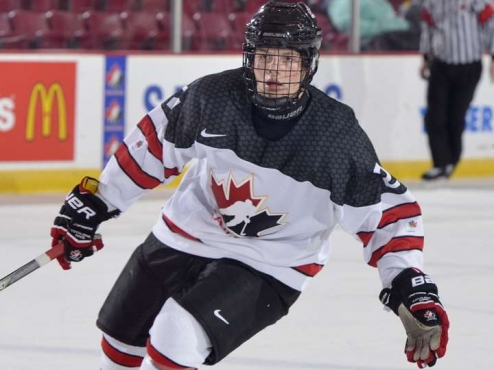 2023 World Under-17 Hockey Challenge
Date: Oct, 24, 2023 12:00 PM EDT
18 players and 7 Staff from Ontario have been named to the 2023 World Under-17 Hockey Challenge. The two teams – Team Canada Red and Team Canada White – will compete in Charlottetown and Summerside, PEI from November 2-11, 2023.
Ontario Players on Team Canada Red :
Brady Martin (Elmira)
Jake O'Brien (Toronto)
Ryan Roobroeck (London)
Luca Romano (Toronto)
Ryan Brown (Newmarket)
Quinn Beauchesne (Ottawa)
Isaac Gravelle (Fenwick)
Assistant Coach Norm Milley (Toronto)
Video Coach Ethan O'Rourke (Bowmanville)
Team Physician Dr. Stuart MacKinnon (Newmarket)
Ontario Players on Team Canada White :
Jack Nesbitt (Sarnia)
Lev Katzin (Thornhill)
Tyler Hopkins (Campbellville)
Ethan Czata (Brampton)
WEsely Royston (Oro-Medonte)
Owen Griffin (Markham)
Rylan Singh (Pickering)
Matthew Schaefer (Stoney Creek)
Cameron Reid (Alymer)
Carson Cameron (Bobcaygeon)
Jack Ivankovoic (Mississauga)
Head Coach John Dean (Don Mills)
Goaltending Consultant Andrew Mercer (Ottawa)
Equipment Manager Spencer Stehouwer (London)
Team Physician Dr. Adam Parent (Newmarket)
The players chosen to represent their country were selected by Byron Bonora (Brooks, AB), U17 head scout, and Dave Brown (Niagara-on-the-Lake, ON/Erie, OHL), U17 lead with the Program of Excellence management group, with assistance from regional scouts Rob Simpson (Ontario), Pierre Cholette (Quebec), Darren Sutherland (Atlantic) and Darrell Woodley (Ontario).
Follow the tournament action on TSN and RDS, the official broadcasters of Hockey Canada (medal games); check local listings for details. Preliminary-round games, quarterfinals and semifinals will be available by livestream.
For more information about the tournament, Team Canada White, Team Canada Red and Hockey Canada, and livestream, visit hockeycanada.ca