U9 Player Pathways
How a player gets their initial taste of hockey is crucial. The first few years of hockey must be a positive experience full of fun and excitement.
If the beginner has fun, develops basic skills and builds confidence, there is a better chance they will go on to enjoy hockey for a lifetime. But if a young player has an unhappy, unrewarding experience, they may quit at an early age and never discover the real joy of Canada's game. Every young player should have the opportunity to enjoy hockey for life!
The U9 Player Pathway is both a progression for the five and six-year-old player that participated in the U7 Program as well as an entry point for other seven and eight-year-old children looking to gain the skills to enjoy hockey.
A minor hockey association's programming at the U9 level will serve as the foundation upon which the team structure of the minor hockey association is built. Youngsters at every level in minor hockey benefit from getting the 'right start' in the game. Programming at the U9 level is a crucial piece in building the skills of house league and rep team players alike.
"Learning the basic skills at a young age will set the foundation for everything a player will accomplish in the game of hockey." Corey McNabb, Director of Hockey Development Programs, Hockey Canada.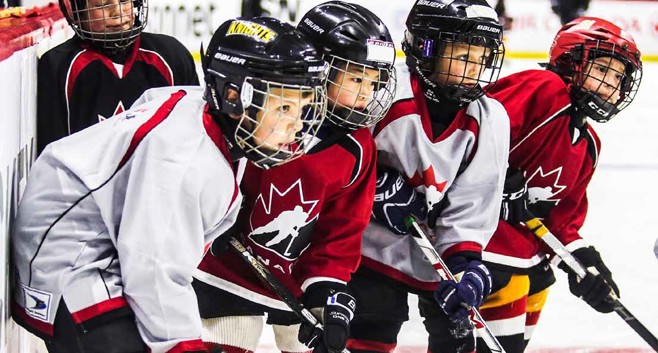 ---
About
Programming should be delivered through a progressive learn-to-play teaching curriculum that spans the seven to eight-year-old age group. Children learn best through participating in practice drills and sessions as well as informal and modified games such as shinny, freeze tag and obstacle courses.
The program consists of four levels of instruction, designed specifically for young hockey players. Each level consists of a series of practice plans (lesson plans) that follow a defined path of progressions.
The skills of skating, puck control, passing and shooting are introduced and refined in a progressive one-step-at-a-time manner.
Although the emphasis is on fun and skill development, hockey at these ages should also allow youngsters to experience fitness, fair play and cooperation.
To ensure a positive experience for the children, a coaching clinic has been designed for the on-ice coaches that focuses on communication, teaching skills, leadership, skill analysis, lesson organization, and safety and risk management.
Program Philosophy
Hockey Canada developed the program to ensure that the child's early experiences with hockey are delivered in a safe and positive experience.
The program enables participants to become contributing members of a team effort, develop self-confidence and experience a sense of personal achievement.
Program Goals
To have fun while playing hockey and engaging in physical activity.
To learn the fundamental skills required to play the game of hockey.
To develop and refine basic motor patterns.
To be introduced to the concepts of cooperation and fair play.

---
U9 Hockey
Playing Surface (REQUIREMENT)

All U9 will be played at half-ice or a maximum size of 100 feet by 85 feet (100x85).
Eight-year-olds and mixed programming may transition to full ice from January 15 to April.

Player Evaluations, Selections, Tryouts (REQUIREMENT)
Half-Ice Game Play Rules (REQUIREMENT)

4-on-4 format.
60-minute game length. Two periods with a run-time clock.
Timed buzzer or whistle for line changes, shift length not to exceed two minutes.
Minimum of one official.
No score, standings or stats are kept.
Blue or black puck used.
Net size – 3x4 or 4x6.

Fair and Equal Ice Time (REQUIREMENT)

All players and goaltenders should receive fair and as close to equal as possible ice time.
Positional Rotation:

All players play all positions (RECOMMENDATION)

Goaltender Rotation:

No full-time goaltenders. (RECOMMENDATION)
All players have the option to play goal at least once. (RECOMMENDATION)
Playoffs (REQUIREMENT)

There are no playoffs in U9.

Seasonal Structure (REQUIREMENT)

Preparation Phase (up to 4 Weeks)

See Player Evaluations/Tryouts above.

Development Phase (up to 8 weeks)

Teams must have a period of development time following tryouts prior to the start of the regular season.

Development and Regular Season Phase (Up to 20 weeks)

Recommended maximum of 40 games per year (includes exhibition, league and tournaments) (RECOMMENDED)
Seasonal Breaks – season should allow for two seasonal breaks of a minimum of five days without a scheduled game or mandatory practice. (RECOMMENDED)

Tournament are Jamboree Format

Jamboree engages players in a fun environment. Games may or may not be competitive and the emphasis is on fun and fair play, no standings are kept.

Offseason Phase (end of season to August)